The Hurdy-gurdy Method



Doreen Muskett's Hurdy-gurdy Method, first published in 1979, has proved of immense value to players all around the world. The third edition, revised by Michael Muskett, improves still further a book that already stands as an exemplar for instrumental methods.

The method is written for instruments tuned in G/C, where the keys and notation are the same as a piano. But it is equally useful for D/G hurdy-gurdies.
---
Gurdypedia



Gurdypedia is a compilation of nearly all of the hurdy-gurdy related information available on the Internet, covering tips on maintenance, playing the instrument, forthcoming events, interesting articles, reviews and pointers to books and DVDs about the instrument.
---
Caliban's Dream Virtuoso players of historical instruments for
Medieval and Tudor Weddings, Banquets, Corporate Events, Historical Events, Concerts, Film, TV and Radio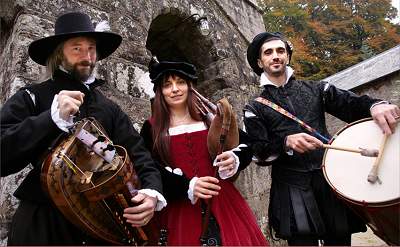 Caliban's Dream are a trio of two musicians and a dancer with a passion for 12th to 17th century European music and dance. The name comes from Caliban in the Tempest.  They are Katy Marchant, Steve Tyler and Ricardo Barros, they are the core members of medieval music and dance-theatre company Daughters of Elvin. Between them they play an exotic array of authentic early instruments which include: Hurdy gurdy, Bagpipes, Gothic Harp, Recorders, Pipe and Tabor, Pipe and Salterio, Cittern, Citole, Percussion, Harpsichord and Virginals.
---

Welsh Early Music Information

Welsh Early Music Information is an online resource, serving Wales and the nearby areas of England.

The website is for concert goers and musicians, both amateur and professional, with a particular interest in music composed before about 1750.

We particularly like historically informed performances and ensembles who play on period instruments

We list performances and other events such as masterclasses and workshops. Also listed are teachers, instrument makers and other items of interest.
---

The ToolPost

E-mail: peter@toolpost.co.uk
Supplier of excellent tools, very knowledgeable, friendly and honest.

---

Steffen Nowak

E-mail: nowak@blueyonder.co.uk
Superb maker of violins violas and cellos. Inspirational, beautiful.....

---

Gerhard Kress

E-mail: gerhard@gurtmint.co.uk
Seriously dedicated maker of Bodhrans. Wonderful chap.Must be mad.

---

Tony Millyard

E-mail: tony.millyard@talk21.com
Maker & restorer of early reed instruments.

---